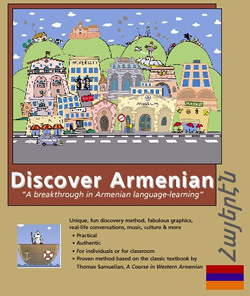 Discover Armenian Software
$49.99
Full Western Armenian language software package, with one (1) end-user license included for Windows 2000, ME, or XP
[Add to Cart] [View Cart]


Demo CD (Free + $1.50 Shipping & Handling)
$0.00
This Free Demo CD will take you through the highlights of the Discover Armenian Western Armenian language software- begin the fun today! Limit one per family. Shipping & handling $1.50.
[Add to Cart] [View Cart]



Please contact us at orders@discoverarmenian.com for bulk orders.


Unless otherwise noted, shipping is not included. Our default shipping is "Ground" for all orders.